Berlin CSD and Elementary School principal Tracy Kent are excited to welcome Mr. James Taylor-Shaw, Ms. Jamie Ockenholt, Ms.Tina Garner, Ms. Lisa Sams and Ms.Theresa Mulvey to BES this school year. Learn more about our new staff at BES in their own words below.
James Taylor-Shaw, MS
jtaylorshaw@berlincentral.org
Berlin Elementary School Family Liaison & Counselor
I am a former student of Berlin Central School District, class of 2009. I went on to get my Bachelor of Art degree in Sociology from the University at Albany, SUNY and then received my Master of Science degree in Professional School Counseling from Sage Graduate School. I also have my provisional New York Peer Support Specialist certification (for mental health) that I obtained through the New York Peer Specialist Certification Board in January 2021.
I have many years of experience working with people of all ages. I spent 10 years working at Jiminy Peak Ski Resort, 5 of which I spent as a Children's Ski Instructor and the other 5 I spent as the KidsRule Lead Supervisor. I have 6 years of on and off experience working in before and after school programs with students in grades K-8. I also worked for 2 years at Vanderheyden as a Direct Support Professional in their Residential Cottages. Beyond working with youth, I also worked as a Respite Residential Counselor and Peer Support Specialist with Rehabilitation Support Services, Inc for their adult clients with mental health concerns. 
My wife and I currently live in Averill Park with our two pets – a wonderful pit bull who we rescued from the Mohawk Hudson Humane Society and an overly energetic kitten/young cat who we rescued from Voice for the Voiceless. My wife and I met each other in high school, but did not start dating until we were in college. We have been together 11 years now and married for 3. My parents still live in the district as well as my little brother ('19) and nephew (who is currently a student at BMHS). I also have two older brothers, one of whom lives in the capital region area and one who lives downstate. 
The pandemic really allowed me some time to rediscover what my interests truly are and rediscover the importance of self-care. I was able to reconnect with nature (which was one of my favorite things about living in Berlin). I also enjoy doing arts and crafts, reading poetry, writing poetry, journaling, organizing, spending time with my wife and our pets, listening to music and going to concerts (at least pre-pandemic). I'm passionate about mental health, human rights, and helping others.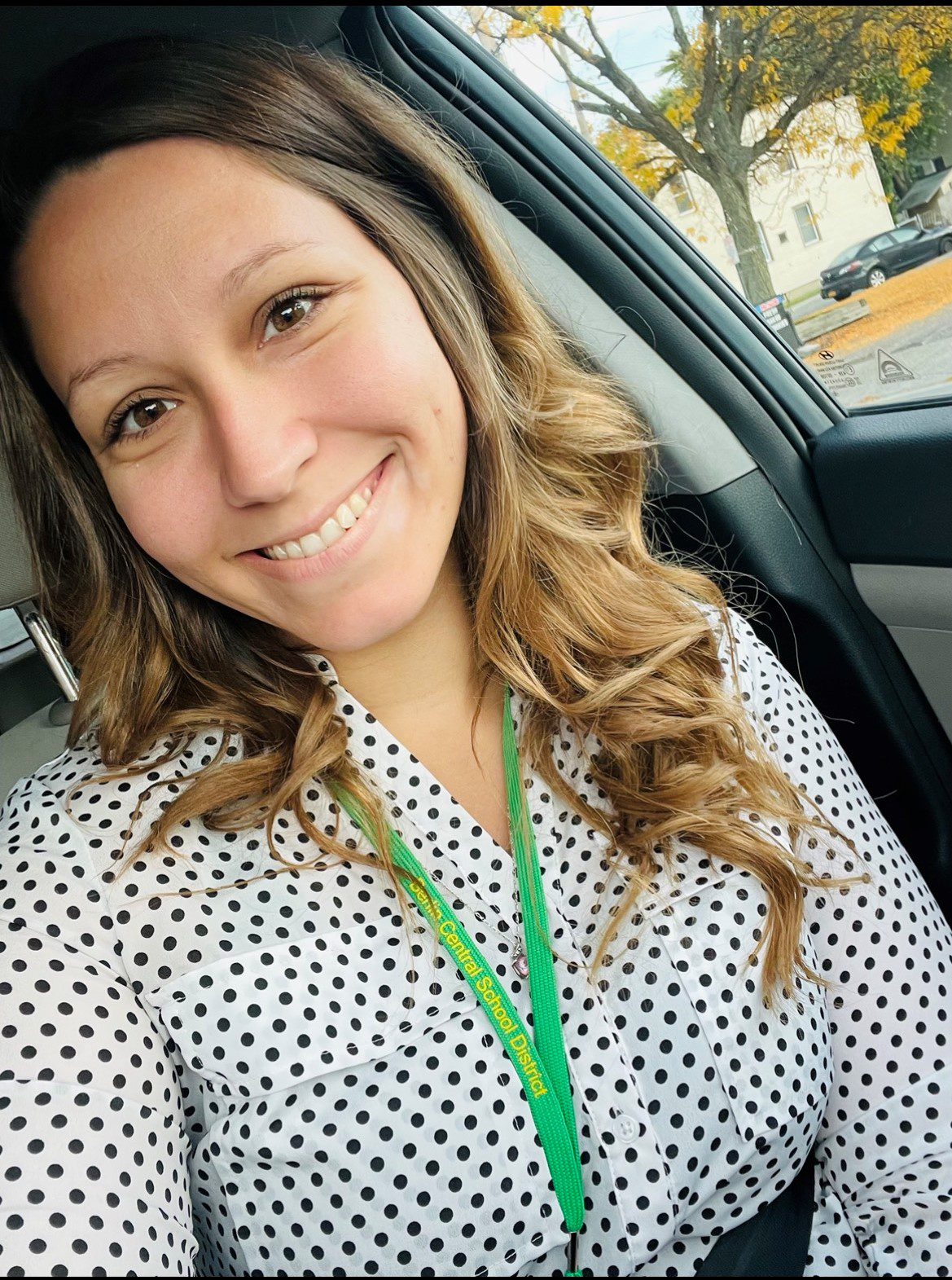 Jamie Ockenholt
BES Teacher Assistant
I am on my way to being a certified TA and hope to start school in the spring to become a certified teacher! Before I accepted the position with Berlin I worked for CNY Fertility Center for 7 years. I have a son and daughter who are 4 and 6. My interests outside of school are Basketball, playing with my kids and hiking.
Lisa Sams
BES Monitor
I grew up in Lansingburgh New York where I went to high school and then furthering my education in a degree in TV Production and Broadcasting at the New School of Radio and Television. I worked at our local Fox and NBC affiliates for close to 5 years before branching out into government. For 10 years I worked in the New York State Legislature under two State Senators. However working with children had always been my dream job so when the opportunity presented itself I began subbing for the Berlin Central School District. Although I have had some amazing careers, the most rewarding has been working with kids for me. I live in the district with my husband, son Dominic, our two pups Sasha and Misha and our cat Moosie. In my down time I enjoy spending quality time with the family going on day trips and doing outdoor activities or reading a good book.
Tina Garner
BES Monitor
I completed my GED in 2010 at the Access Center in Troy, NY. Before being accepted as an employee at BCSD I worked as a cleaner in Medical Buildings. I moved to Berlin at the end of 2020 with my Mother, Fiance and 2 daughters. I also have an adult son and daughter who currently live on their own. When I'm not working I enjoy spending time with my family or crafting various items.
Theresa Mulvey
BES Building Substitute
Hi! My name is Theresa Mulvey. I grew up in East Greenbush with my parents and brother. My dad is a teacher in Albany and my mom is a Judge and retired Army Colonel.  My brother is in the Army, stationed in Texas. I have a dog named Niko that I adopted in February.  I went  to The College of Saint Rose for Childhood and Special Education, I graduated in May of 2021 with my Bachelors Degree. I am currently working on my Masters in Literacy through the College of Saint Rose. I have been working with children since I was sixteen. I worked as a summer camp counselor for 4 years and a summer camp director for 1 year. I also worked at a preschool during college helping to prepare children for kindergarten. After I graduated college, I worked as a substitute teacher for the last few months of school. I have been volunteering with STRIDE Adaptive Sports for 6 years. I am an assistant coach of their Special Olympics Swim Team, and teach beginners swim lessons. We haven't been able to meet since February of 2020 but practices and lessons start again in October 2021!! Outside of school I love to read, and swim. In the summer I am usually reading a book at the pool or occasionally at the beach.  I also love to take my dog for long walks, where he likes to chase after bunnies or squirrels.