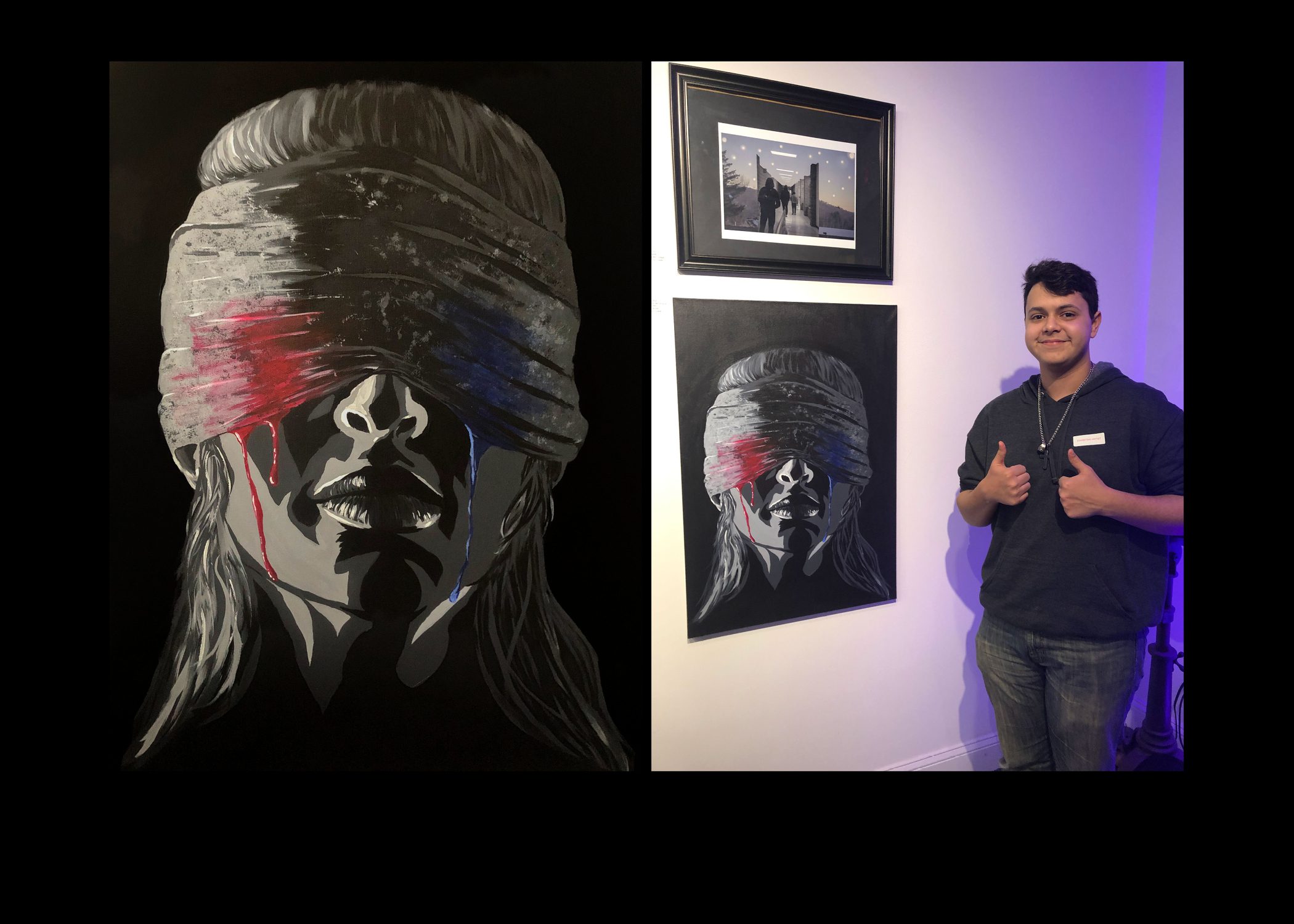 Berlin High School senior Daniel Rivera's powerful painting, "Tears of Miss Justice: Mourning a Broken System," is a national award winner!
Daniel won the "Best in Show" award in the annual "Democracy Collection Student Art Competition" sponsored by the National Art Education Association and the Art in Embassies of the U.S. Department of State.
This competition provides an incentive for students to explore democracy through the creation of art. Daniel won not only the top award for the Northeastern Region, but "Best in Show" out of the entire country!
Daniel started "Tears of Miss Justice" in Mrs. Samantha Colbert's Berlin High School Intermediate Studio Class in the fall of last year. He worked on his painting in Mrs. Colbert's art room for the next five months.
When the painting was completed, BHS English and Language Arts teacher, Ms. Mikaela Marbot, helped guide Daniel through his artist's statement writing, part of the submissions process for adjudication.
A panel of visual arts professionals, including renowned graphic artist Shepard Fairey, chose five winners from 30 finalists: four regional winners and one "Best in Show" (Daniel's painting).
This September, Daniel and Mrs. Colbert will travel to Washington, D.C., to participate in the Smithsonian Museum's "Art Activations for Democracy" event. In September Daniel's painting will be at the Smithsonian where his work will be displayed, it will then become a permanent part of the Art in Embassies Collection where his painting will potentially travel throughout embassies of the world.
"The winning work will become part of the Art in Embassies repository, available to diplomats to further their missions of democracy diplomacy abroad for years to come." – https://art.state.gov/democracy-collection/ 
Berlin Middle High School's Art Educators Mrs. Samantha Colbert and Mrs. Shannon DeCelle are so proud of Daniel's work and excited to see and hear how the Berlin CSD's community is celebrating Daniel's accomplishment.
More information can be found here: https://art.state.gov/democracy-collection-naea-competition/
If you didn't get a print copy of his now-award-winning painting and are still interested in one, please email scolbert@berlincentral.org
Please find Daniel's artist statement below.
Go Mountaineers!
Art Changes the World!
Daniel's artist's statement is below.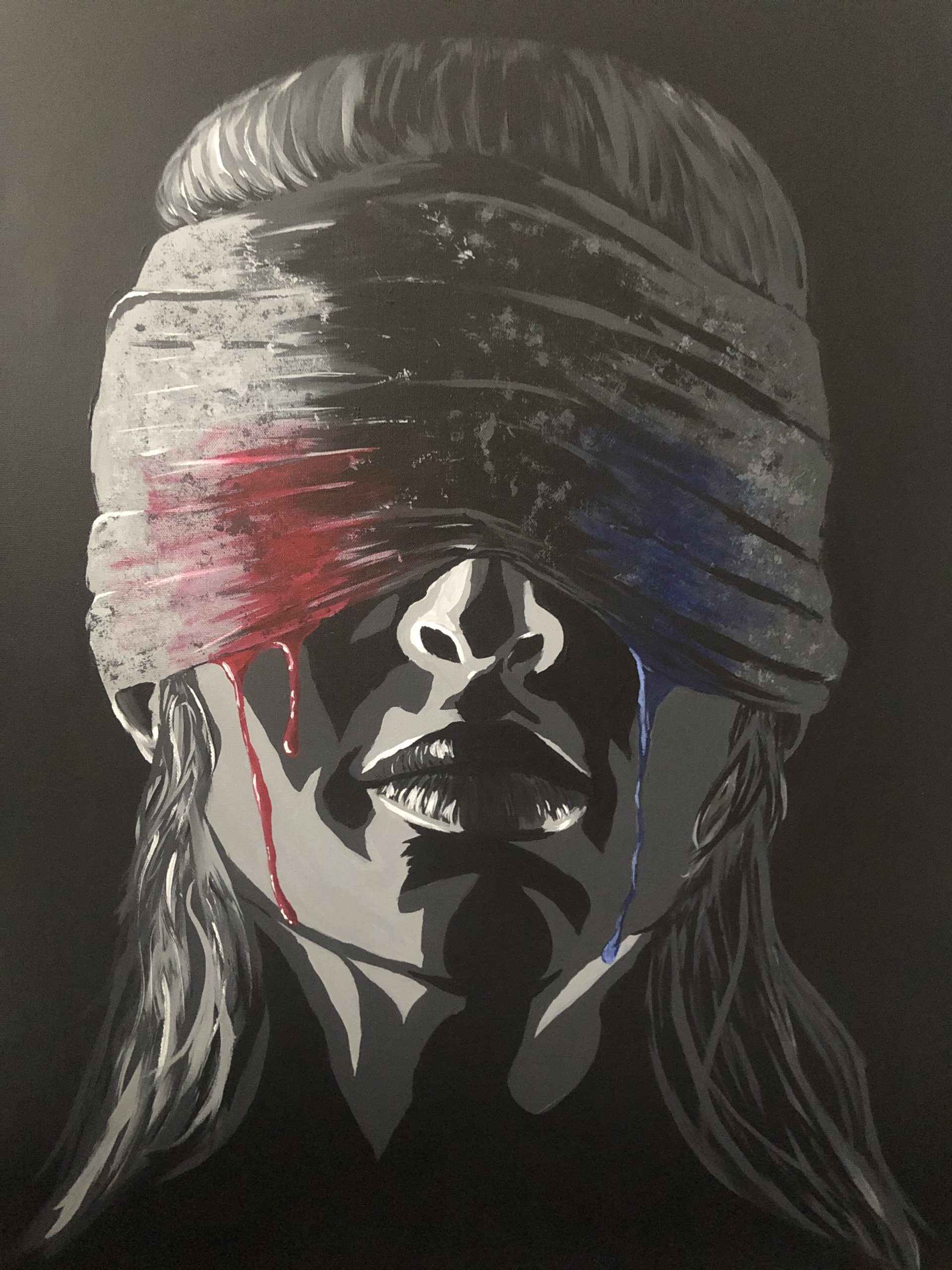 Artist's Statement 
Artist's Statement 
I created "Tears of Miss Justice: Mourning a Broken System" to portray what I see in our country. She represents the way I see many of us blind to the truth of how our two-party system causes pain and fights amongst citizens of America. Her tears represent the citizens of America. The colors of her tears represent the two different political parties, while the presence of the tears symbolizes the sadness and pain our country faces when the parties fight, argue, and pit the people against each other. Miss Justice is set in an all black background to make her the focal point, with shades of gray in her face representing a sense of dread and despair. Her blindfold, which the tears bleed through, represents the way I see many of us blind to the truth behind our system.
Daniel Rivera, Grade 12
Berlin High School
2022-2023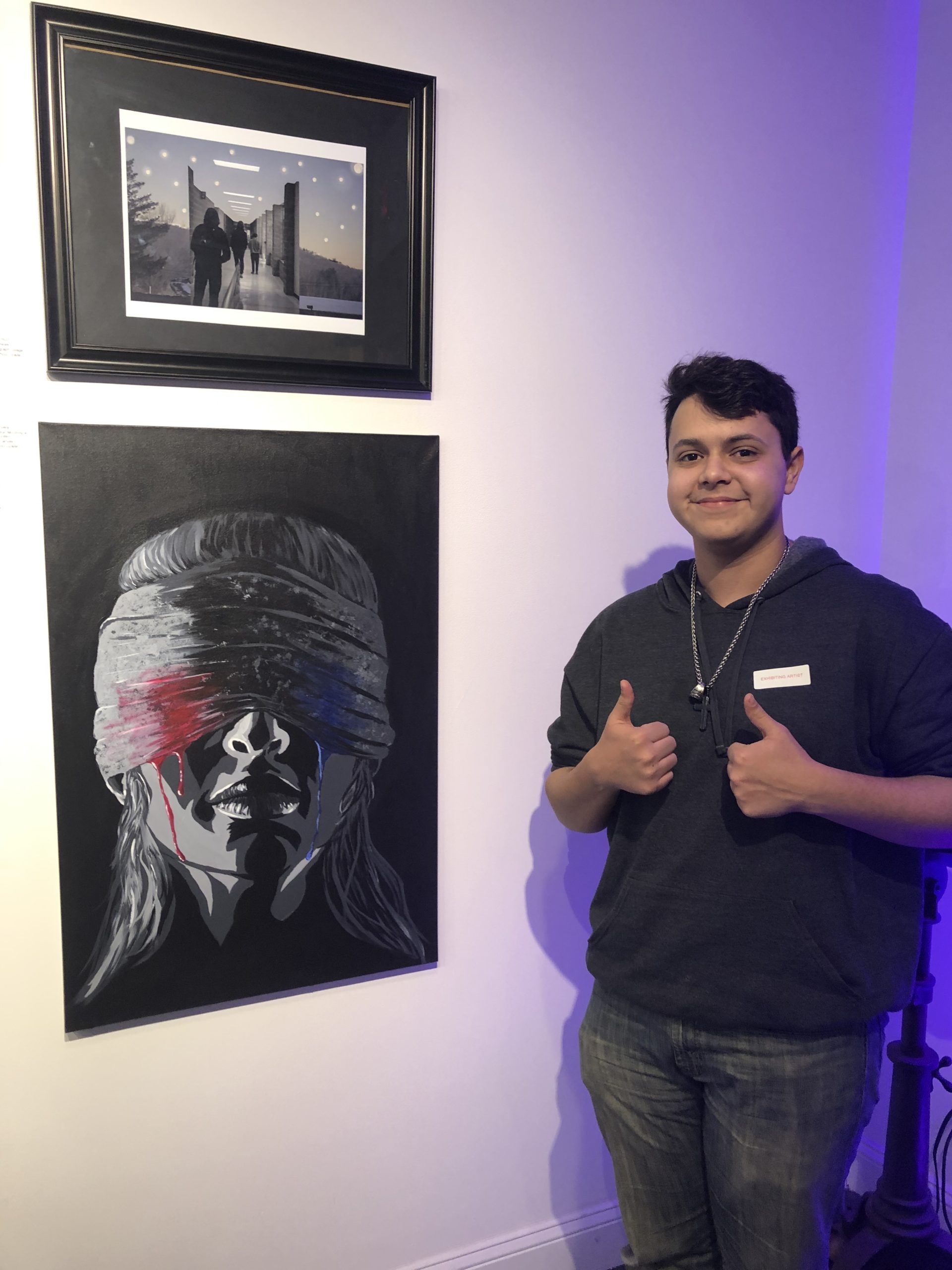 News Coverage of Daniel's Achievement
Positively Upstate New Channel 6