On June 11, the fifth graders at Berlin Elementary had their D.A.R.E graduation ceremony.
For 21 years D.A.R.E. (Drug Abuse Resistance Education) has been taught to 5th graders at BES.  For the past five years Deputy Jeff Russo has taught the five month once a week course to the students from Berlin and six other surrounding school districts.
Rensselaer County Executive Steve McLaughlin and Sheriff Pat Russo were guest speakers at the event and joined Deputy Russo, BES Principal Tracy Kent and 5th grade Social Studies teacher, Mrs. Brenda DeMagistris, in awarding the students D.A.R.E. certificates of completion.
"The program has changed over the years and is about good decision making as well as drug prevention." said Deputy Russo.
At the end of the D.A.R.E program students were asked to write an essay reflecting on what they had learned throughout the course. They were also asked to give examples in their essays of how they have used the D.A.R.E Decision Making Model, also known as DDMM and the 5Ws (Who, What, Where, Why and When) in  reporting bullying.
Deputy Russo gave out awards and free movie tickets to the top four essay writers. The top essay awards went to Seth Hendricks, Lillian Hasbrouck, Charlie Young and Norah Smerdon. The students took the podium to read their essays aloud to their peers, families and special guests.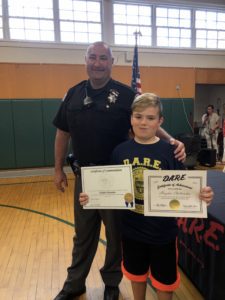 D.A.R.E. students of the year were also chosen by Deputy Russo from each of the 5th grade classrooms. Cooper Wescott, Tylie Dodge and Mackenzie Lowell were honored with certificates and with season passes to the Great Escape for their outstanding dedication and participation in the program.
"A grown up is just what it looks like when you add up all the choices they make," said Deputy Russo. "Every choice matters including what you do on the Internet: It is easy to do the right thing when we make good choices, so remember to use the DDMM."
Congratulations to the 5th grade D.A.R.E. graduates!