"It was great seeing the enthusiasm and engagement of our staff on Opening Day," said Superintendent Joseph Dhara about Berlin Central School District's Superintendent Conference Days on September 5th and 6th.
"The laughter, encouragement, and support for each other through the various activities was incredible to witness,"
This school year's "Opening Days" or Superintendent Conference Days, offered opportunities for the district to come together for two days of team building, goal setting and training in preparation for the school year ahead.
The theme for the 2023–2024 school year is "Engaged Mountaineers." The BCSD is building upon last year's theme of "Stronger Together," with the goal to increase the engagement of its students, staff, families and community members.
Engaging our entire Mountaineer community will lead to success both in and outside of the classrooms, said Mr. Dhara. 
"The continued dedication of our staff to our students and district is truly inspiring and appreciated," said Mr. Dhara.
It was a spirited and welcoming start to the new school year.
During the opening ceremony administrators and staff celebrated Mountaineer its 5, 10, 15, 20, 25 and 30 year "Hall of Fame Mountaineers" and "Staff Newcomers."
This year's honorees for their years of service and celebrated staff are listed below.
Thank you to the BCSD Buildings and Grounds team for preparing the buildings and grounds for Opening Day! You are a stellar team.
Thanks also goes to our Food Service Team, who provided an excellent lunch for the district staff. 
Let's Go Mountaineers!!!
---
Hall of Fame
5 Years
Melissa Crane – Custodial Worker
Erin Crimmel – Information Specialist
Layla Davis – Transportation Dispatcher
Amy Buck – Bus Attendant 
Jean Hammond – School Nurse
Michelle MacDonald – Art Teacher
Brianna Murray – School Psychologist
Patrick Soroca – Bus Driver
Harold Stevens – Bus Attendant
Donna Williams – Teaching Assistant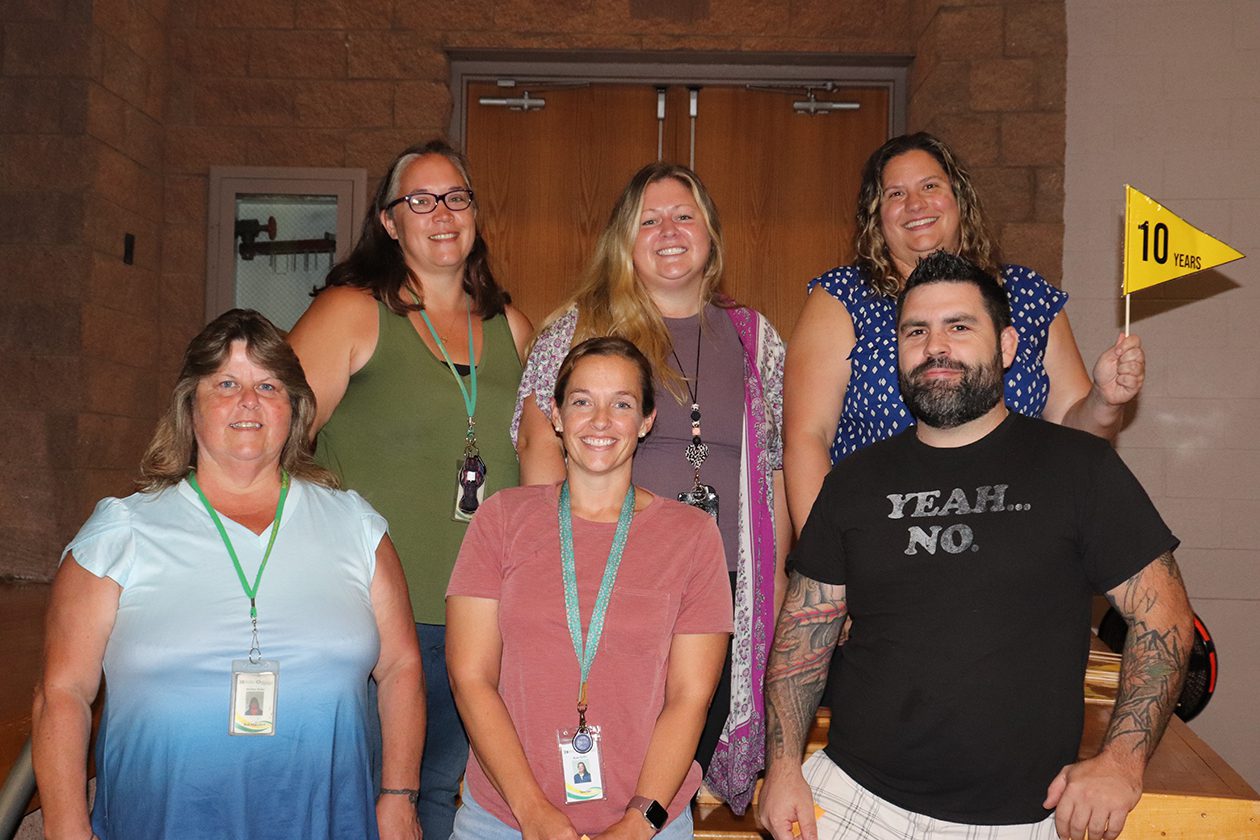 10 Years
DJ Connolly – Math Teacher
Leslie Eliashuk – Music Teacher
Meredith Hammond – Spanish Teacher
Amanda Hayes – Science Teacher
Barb Kellar – Bus Attendant
Ryan Steller – School Counselor
15 Years 
Robert Gould – Social Studies Teacher
Rachel Harrison – School Counselor
Nick Toole – Science Teacher
Dawn Wetmore – Technology Teacher
Daryl Maxon – Building Maintenance Worker 
20 Years
Dan Dobbins – Kindergarten Teacher
Karyn Healy – Second Grade Teacher
Laura Hunt – Teaching Assistant 
Patty Korzec – Math Teacher
Cristi Lamontagne – English Teacher
Michelle Meyer – Senior Typist
Melissa Putterman Hoffman – Social Worker
Jessica Rontey – Third Grade Teacher
Darlene Shorter – Bus Driver
25 Years 
Michelle Baldwin – Special Education Teacher
Kimberly Bugbee – Special Education Teacher
30 Years
Bill Bourquard – Third Grade Teacher
---
Familiar Faces in New Place and Newcomers
Berlin Elementary
Erik Eckert – Math Interventionist 
Aubrey Mahar – Math Interventionist/Building Substitute
Megan Olson – First Grade Teacher 
Rebecca Schumaker – Special Education Teacher 
Casey Ballard – Special Education Teacher 
Kayla Vasilatos – Teaching Assistant 
Laura Masterson – Building Substitute
Berlin Middle High School
David Bernsley – BMHS Principal 
Faith Gatto – 8th Grade Math Teacher 
Audrey Vanderhoef – 8th Grade Science (Leave of absence) 
Sydney Mello – School Within a School (SWS) 
Keana Heim, Mike Foster – Building Substitutes 
Stephanie Miller-Cruise – Teaching Assistant 
Melissa Cleary – School Counselor 
Sarah Leonard – School Social Worker 
Rebecca Sweet – Special Education Teacher
Transportation Team
Aqquillaa Smith – Bus Driver
Steve Riccardi – Bus Driver
Shaun Theoret – Bus Driver
Beth Dare – Bus Attendant
Benjamin Smith – Bus Attendant
Amanda Monk – Bus Attendant
Buildings and Grounds Team
Chelsea Rathbun – Senior Typist 
Joann Williams – Custodial Worker 
Nicole Bedford – Custodial Worker 
Transportation Pinch Hitters 
Jen Burhans – Substitute Bus Driver
Ed Macey – Substitute Bus Driver
Daryl Maxon – Substitute Bus Driver
Heidi Colin – Substitute Bus Driver
Jackson Burhans – Substitute Bus Driver
Valerie Bell – Substitute Bus Attendant
Lynn June – Substitute Bus Attendant
Billie Joe Brock – Substitute Bus Attendant