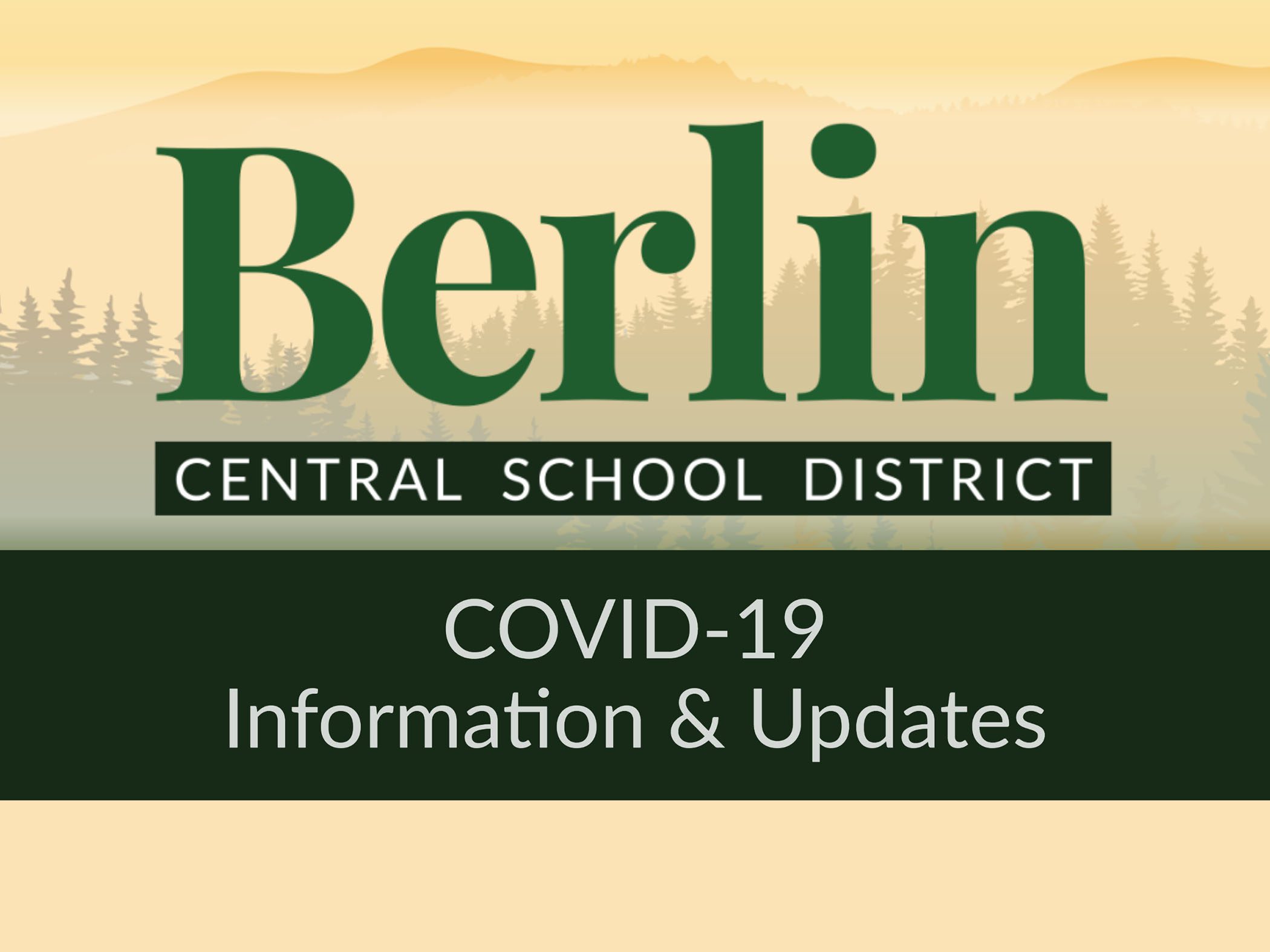 This letter was also emailed home to all families on August 30,2022
Dear Berlin families,
I hope that you have had a safe and relaxing summer. We cannot wait for our students to return to school.
Through this email, I would like to communicate the latest information regarding Covid and also address some related questions that may have come up.
The NYS Department of Health (DOH) released its latest Covid guidance on Monday, August 22nd. As we enter our fourth school year with Covid, there have been some changes in practices and protocols that I will communicate through this letter and also the attached documents.
Please take time to read through them and reach out to either Michele Corsey (BMHS) or Jean Hammond (BES) if you have any questions.
The following items are no longer in practice as of this school year –
There will be no more Quarantines (except for those individuals who test positive and have to Isolate)

We will not be doing Contact Tracing

There will be no Covid testing for Sports

We will not be doing testing of unvaccinated staff

We will also be discontinuing our Covid tracker
The following items are still in effect –
5 days of Isolation for a person who tests positive for Covid

Wearing a mask from day 6-10 for a person who tested positive (upon their return to school) – this could be shortened by testing negative on days 5 and 7 (we will give each student or staff who test positive, two tests to take home, and test on days 5 and 7). Upon these two tests having a negative result, the individual does not have to wear a mask from days 8-10.
As long as we have parent permission, we can also perform testing for symptomatic students who are already in school (Form attached).
This and more information is also available on our website at https://berlincentral.org/2021/09/08/bcsd-2021-2022-school-year-opening-resource-page/
Through the year, our nurses may also send Covid related information to your attention.
Please note that the above information is subject to change based on further guidance that we may receive from NYS DOH or Rensselaer County DOH. As we receive information, we will make sure to convey the same to you.
Thank you as always for your continued patience, understanding and support.
Respectfully,
A. Joseph Dhara
Superintendent of Schools
2022-2023 School Year COVID Joint DOH-SED Letter to Schools_FINAL.pdf
2022-23 School Year COVID-19 FAQs for Schools (1).pdf
Q3 POC Testing Consent Form 8-17-22.docx
The Berlin Central School District Health Offices have an abundance of home test kits available that can be picked up at school in both health offices or sent home with your child upon request.
Links & Resources