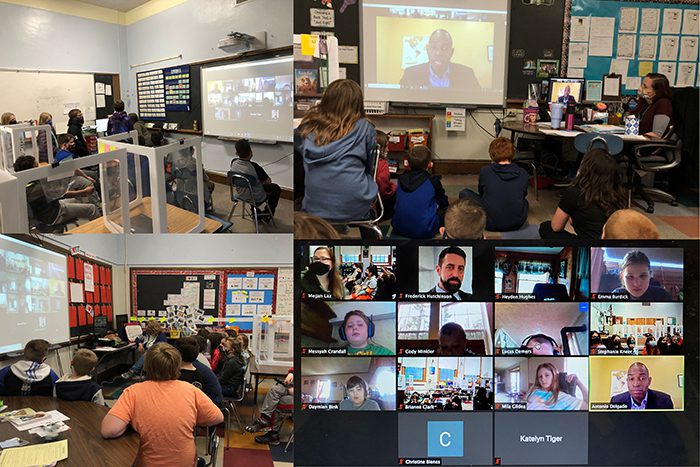 BES teacher Mrs. Laz recently coordinated a virtual field trip for the entire fourth grade with Representative Antonio Delgado from New York's 19th District.
The students in Mrs. Laz, Mrs. Clark, Mrs. Kneer and Mrs. Bersaw's fourth grade classes have been studying the branches of government this year and were excited to ask the Congressman questions.
A number of fourth graders volunteered to share a reflection from the virtual field trip. Please enjoy their thoughtful responses below.
BES 4th Graders Reflect on a Virtual Field Trip with U.S. Representative Antonio Delgado
Isabella Ray:  It was fun and interesting to learn about.
Keegan Cooper:  It taught me a lot of stuff about the government.
Brennan Berry:  I liked how we got to meet him.  It was really cool because I have never met somebody from the government.
Ava Stone:  I enjoyed the meeting.  I learned that he was in the same room as some of the presidents, he didn't have a schedule and worked all of the time, and he had to be away from his family a lot.
Savannah Hammon:  It was a pleasure to meet him and he taught me that he never has a schedule and he travels back and forth to Washington DC all of the time.  He said his most important responsibility is to listen to communities and see if they need help so he can try to fix it. I liked how he made it so we could understand it.
Roddy Gardell:  I liked that he answered every question and he was really calm about it.
Jayden MacMillen:  I learned that he travels and he has some hard work.
Anthony Williams:  He can be in office for two years and then he has to be elected.
Benjamin Maxon:  He was very interesting because I learned facts about the senate could be six years and he could only be two years.
Rachel Smith:  I really liked that he made it so that we could understand it instead of using really big words.  He talked so fourth graders could understand it.  He shared a lot of facts like how the house gets 2 years and the senate gets 6.  It was really amazing to see him.
Easton Montanye:  I liked that we got to see Antonio Delgado because he is part of the house and we have been learning about the government.  I thought that was really cool.
Luke Turetsky: I learned a lot about how the House of Representatives works and about his job like how they are passing a bill about farmers.  Also, he said the most important thing about his job is to listen to the community.  I learned a lot about him when he was in fourth grade.  He said his parents made him study and do a lot of chores.
Rockim Minkler: I think he is a genius! It was pretty cool to meet him and learn about what he does to represent us.
Audrey Bruce: He was cool because he travels a lot and meets a lot of people to talk about the district and help us.
Sawyer Goodermote: It was fun. We got to learn about his job and the government which we are learning about in school too. It sounds like a hard job because he is always working.
Ryland Crowley:  He cares a lot about farmers. He is dedicated but it sounds hard to sacrifice his time with his family. I learned that he represents District 19 and his term is two years.
Greenly Goyer: He does a lot for us to keep us safe and thinks about our future.
Logan Chittenden: He was in the same room with three famous people Cuomo, Biden and my favorite Trump.
David Ovitt: He has a super busy schedule. I learned that he has a 2 year term, Presidents have a 4 year term and Senators have a 6 year term. I enjoyed the field trip.
Kaylin Mattison: It was a good day and we learned a lot about his job. I was thinking maybe I would like to be a person in Congress. I like that you have to make sure your town is okay and has a good future.