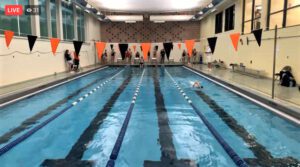 On Friday, Feb. 13,  the Berkshire League held its annual end of the year meet, called Individuals.  This is a non-scoring meet – its intent is for the swimmers to be able to compete in their favorite races. Usually, the league consists of teams from Massachusetts (4), New York (3), and Vermont (1). This year, due to COVID restrictions, only the three NY teams (Berlin/New Lebanon, Taconic Hills and Hudson) and one Massachusetts team (Wahconah), were able to compete. The meet was held virtually at each team's pools. It has been a short and strange season this year, but the athletes made the most of it and ended the year on a good note. Here are a few highlights from the meet:
Berlin/New Lebanon – The Girl's Relay Team of Chloe Meyers, Alex Sotek, Allison Slater and Rilynn Jones broke two school records in the 200 Freestyle (by 3 seconds) and the 400 Freestyle (by 2 seconds).  Alex Sotek and Allison Slater placed first in all four of their events and Chloe Meyers placed first in three of her four events. Liam Buckenroth dropped 13 seconds in his 500 Freestyle and hit a NY Sectional time. Matt Kluck also hit a qualifying time in the 50 Freestyle.
Taconic Hills – Daisy Plaza was less than a second off our school record in the 100 backstroke and Lily Russo dropped 18 seconds off her 500 Freestyle time.
Hudson – Tessa Goldstien and Emma Hanley both dropped more than 3 seconds off their 100 free times; 8th grader Autumn Hopkins dropped 7 seconds on the 100 breaststroke after dropping 7 seconds in the 500 Freestyle.
Wahconah – Jacob Kunzmann qualified for Western Mass. in the 100 Backstroke with a 1:03.38. Zach Archambault had career best times in 100 breaststroke and 200 IM.