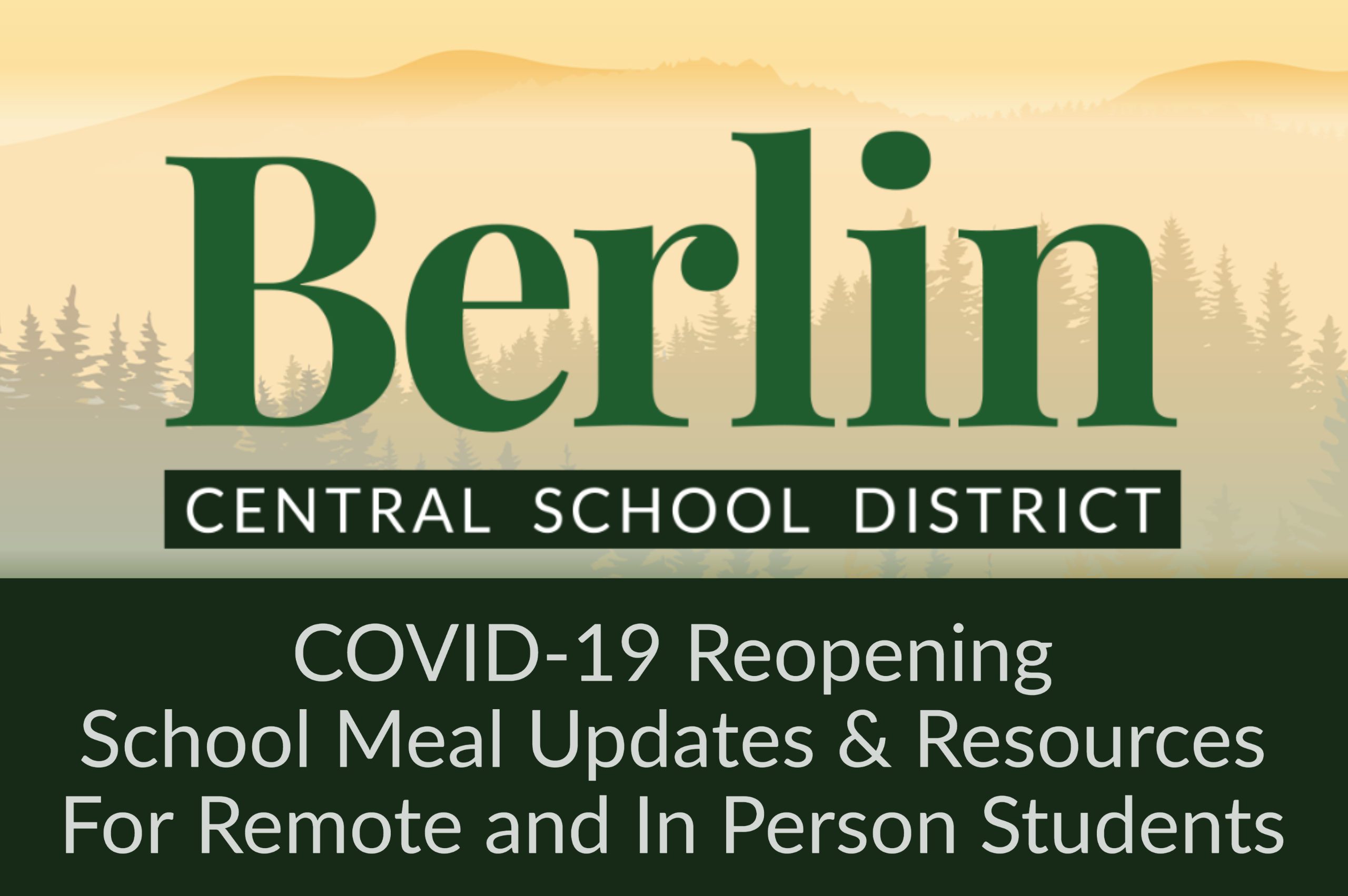 BCSD families below you will find a reference guide and resources to the changes and updates that have been made to the National School Lunch Program as well as some adjustments that will be taking place in our district due to COVID regulations and protocols.
Since March, the Food Service Task Force has worked diligently to ensure that the BCSD breakfast and lunch program adheres to all the safety guideline put in place by NYSED (please see page 54 in NYSED Guidance document for more details) and make nutrition available to all in person and remote learners enrolled at BCSD.
The biggest change this year due to COVID regulations will be ordering your student's meals each week. The orders must be into the myschoolbucks website by Wednesday at 10 am for the following week's meals. For example, meals for the week of 9/14-9/18 must be ordered by 10 am on 9/9.
Links and Resources
Please review this important information regarding the school meal program for both in person and remote learners. If you have any questions or concerns please feel free to email BCSD Food Service Director Tammy L. Whitman at twhitman@berlincentral.org.
We understand that there is a lot of new information to process this school year and we deeply appreciate all your patience and understanding as we implement this new plan.
Important Information 
UPDATED: Effective 9/29 until 6/31/21 all meals will be at no cost.
Meals will be ordered using myschoolbucks.com website. They will need to order by 10 am Wednesday for the full following week.
Parents/Guardians will need to set up an account, regardless if they are free, reduced or paid.
The ordering will link to the payment system. If they are free or reduced, it will show owing zero dollars.
Only those parents/guardians who have alerted the district that they have no internet access will be allowed to use a paper order form. Orders will still need to be into the kitchen on Wednesday by 10 am.
For any students doing remote learning (home school students are not eligible per State Regulations), they will need to follow the same ordering system. Pickup (no delivering) will be at the back of BES Monday from 4 – 5:45 pm.  They will receive meals for Tuesday – Monday.
IF a student happens to forget their breakfast or lunch, we will have a limited number of entrees available. We will have on hand, PB & J or cheese sandwiches in case we need to hand out a meal for a student who forgot or didn't order a meal.
For those MS/HS students going hybrid, meals will be picked up at the end of their first scheduled day in school. So for instance, if the student is in school on Monday, they would pick up their ordered meals for Tuesday, Wednesday and Friday at the end of the day on Monday.  MS/HS Students in school on Tuesday, would pick up their ordered meals for Wednesday, Thursday and Monday.  BES students going hybrid will bring home their meal for Wednesday on Tuesday. 
Meals will be "Grab n' Go" only. The bags will be sorted by classroom and will be picked up by Monitors/TA's.