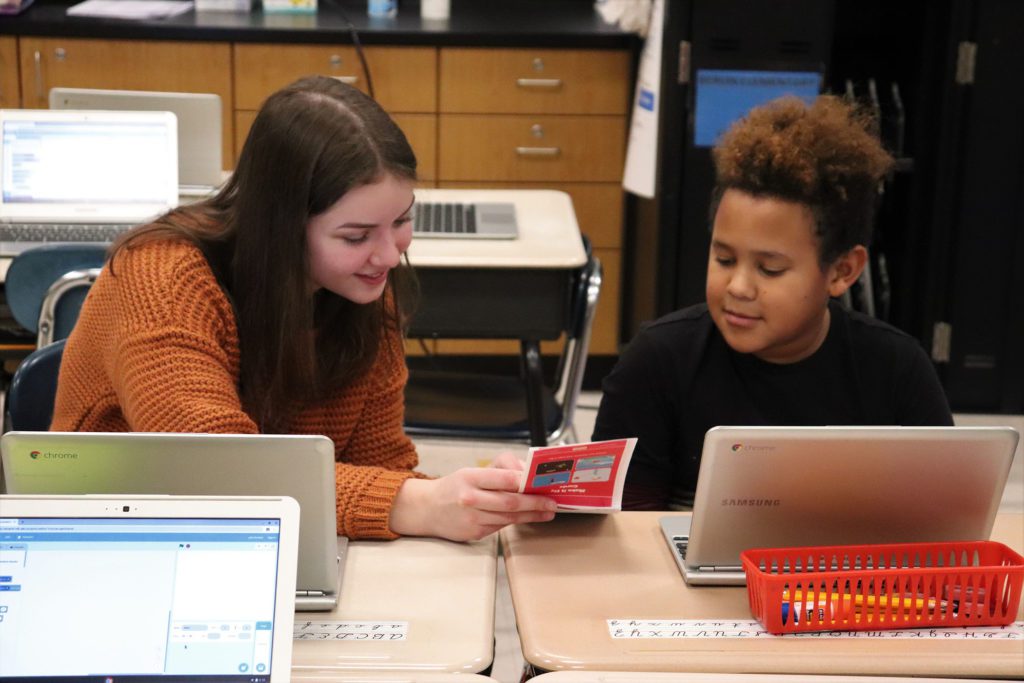 The first Family Science Technology Engineering and Math (STEM) Night was held at Berlin Elementary School on February 13.
Elementary principal Mrs. Tracy Kent and her building's Shared Decision-Making Team brainstormed and coordinated this wonderfully interactive evening.
The STEM night featured over fifteen hands-on activities for students and families to explore. Students were greeted by Principal Kent who gave each one a raffle ticket for a chance to win a slime kit. Students also received a menu that described each activity and the age level it was geared to.
Students and their families then mapped out their evening, picking three activities from the menu to attend. The evening consisted of three rotations, each 20-minutes long.
The STEM stations featured were: "Making Compasses," with a Dyken Pond educator; "Virtual Reality," with Questar III's Carolyn Strauch and BES Technology Specialist Mrs. Andrea Wolff; "UV Ray bands" with Mrs. Erin Crimmell; "Animal Adaptations" hosted by The Children's Museum of Science and Technology (CMOST); "Spaghetti Tower" building challenge with BES Science teacher Mrs. Christine Walsh.
There were also "Aluminum Foil Boats," with BES Librarian Ms. Jen Mitchell; "STEM building bins," with second grade teachers Mrs. Lauren Nichols and Ms. Angelica Bianchi; "Electronic Paper Crafts," with high school Technology teacher Ms. Dawn Wetmore, Aquarium Touch Tank with high school Science teacher Mr. Matthew Christian and a few of his science students.
Middle school Math/Middle-High School Technology Specialist Mr. Nate Ellis also organized high school students to run stations on: Basic Coding, Math Bingo, Flashcards, Tower of Hanoi, Magnets, Bouncing Sums, fun with bubbles and a balloon-building challenge.
Students moved through the stations with excitement and curiosity. The very popular virtual-reality goggles had students and adults gasping as they traveled through deserts and oceans and to the top of Mount Everest.
Families enjoyed competing in the spaghetti tower and balloon-building challenges.
As the evening came to an end many found themselves enjoying the stations set up in the gym that the Berlin high school students were running. The high school students lit up with the same excitement as the elementary students, when working through challenges together.
The Spanish Club's pizza sale to help raise funds for their trip to Peru, was a great way to kick off the evening. High School Spanish teacher Ms. Karen Day and Mrs. Heidi Colin will be making and selling pizza again on February 28. To order a pizza, email kday@berlincentral.org no later than 2 p.m. on Friday OR by call 518-658-1500 ext. 1056 after 3 p.m. on Friday.
The excellent planning and organization by the BES Shared Decision-Making Team was evident by the many students who approached Mrs. Kent during the evening to say how much fun they were having and to ask about the next STEM night.