What is your role here at Berlin Central School District, and where do you work?
I am the new Director of Exceptional Education. My office is in the high school hallway, Room 148.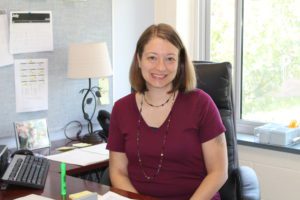 What is your education background?
I went to SUNY Albany for both my Bachelors and Masters degrees.  My Bachelors degree is in English with a minor in French.  My Masters is in Special Education and Literacy.  I received my Certificate of Advanced Graduate Studies in Educational Leadership from the Massachusetts College of Liberal Arts.
What is your background like – previous jobs?
I have been a special education teacher for 12 years.  I worked the last seven years as a high school special education teacher, mostly English.  My most memorable job was as a food server at Johnny Rockets – yes, we had to dance!
What are your interests outside of school? 
I like being outside when it's warm out.  I enjoy taking my dog for walks and hikes.  I crochet in the winter when it's too cold to do anything!
What is your motto or personal mantra? 
I don't have a personal mantra.  It's important to me to try to make the world a better place.  That includes people, animals, and the environment.  I try to live my life with that in mind.
Tell us about your family?
My immediate family includes my husband, dog, three cats, and six chickens!  My dog is 29 pounds of pure energy, and she's the cutest in the world – objectively speaking, of course.  My mom, my sister, and I are every close.  We enjoy shopping and going to see Broadway plays together.