This year, Berlin High School is piloting an Applied Technology Education course that incorporates English and Mathematics in a hands-on environment. Students engage in woodworking projects that allow them to use their hands and apply knowledge from these subject areas.
The class, colloquially nicknamed "Mountaineer Craftsman" by students, was developed by BHS technology teacher Dawn Wetmore with the support of Dr. Cathie Allain, the principal at Berlin Middle/High School.
"We were looking for course options that would provide an alternative avenue for students who are not typically interested in academics, while still maintaining a focus on English and Math," said Mrs. Wetmore.
Unlike past woodworking courses, in which students got to keep what they made, the Applied Technology class makes items that are specifically for other people. Therefore, students utilize English concepts to develop and write contractual documents for the community members who submit orders to the class. The students also designed and created promotional flyers and business cards.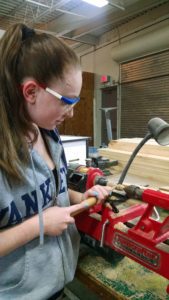 In addition to developing promotional materials and contracts, students in the Applied Technology class apply Math concepts to their projects, such as calculating board length by linear foot (or board foot). Math is also required for students to develop project budgets, which is especially important since they are working with clients in the community.
Using equipment in the shop room, the class fulfills requests from the community for wooden objects such as wooden pencil sets, boxes, clocks and Adirondack chairs. When there is not an order in place, students work on items for the end of the year sale in April.
The Applied Technology class is small during its pilot year, but Mrs. Wetmore is hopeful that it will grow in the years to come.